I just finished my eighth painting for the Evolve Artist course. I'm a bit behind schedule, thanks to various stuff getting in the way last week.
This one continues with more practice of gradients and greyscale values. Unfortunately it didn't go too well!
I'm not going to point out every issue, but it's mostly that in a few places the paint didn't dry in the way I expected. It's frustrating when something looks okay when it's wet, and then a mess after it dries! Clearly I have a lot to learn about oil painting lol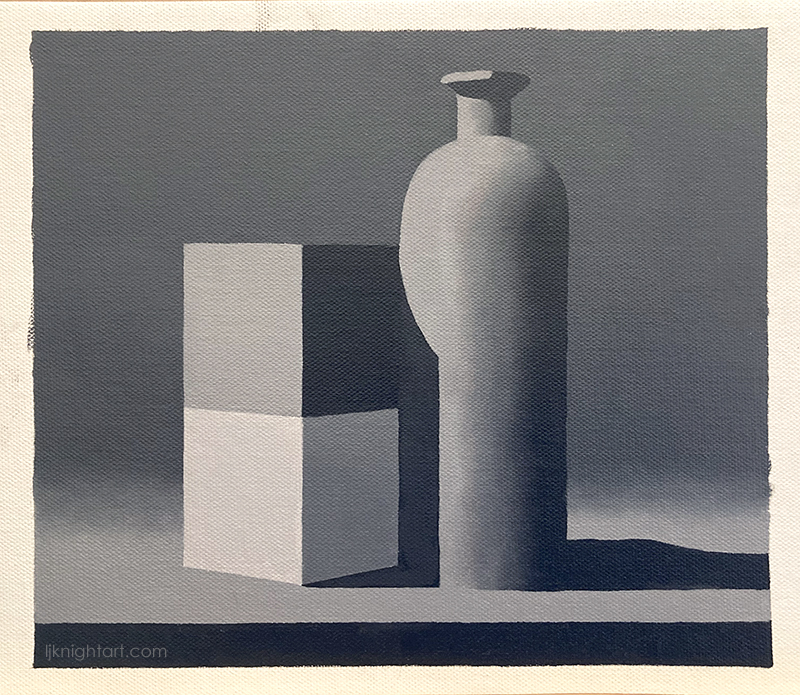 It's not all terrible. I'm quite happy with my straight edges, and am getting better at avoiding paint ridges where colours meet. I also painted this one over two days, rather than just one as I've done before now. I really enjoy these paintings, but am still very slow and a full day is a bit much. By the end of the day the paint is getting tacky, I'm tired, and just want to be done. By splitting it over two days it still took longer than I'd like overall, but the process was more relaxing.
I also really need to figure out how to get better photos of these. If the room lights are on, there's tons of glare from the shiny paint. Turning the lights off gets rid of the glare, but then it's out of focus. Doing something about my lack of photography skills is also on my list 😀
See all my Evolve Artist paintings here.