Cute and Easy Kawaii Alphabet is designed for anyone who loves to colour adorable designs! This book has 26 original illustrations that are hand-drawn in Japanese kawaii style. There is a page for each letter of the alphabet, each with several characters to colour. These include a unicorn, cat ice cream cone, narwhal, cute food, household objects, flowers, animals and more! The easy pages make this a perfect book for beginners, children and people of all ages who like to colour designs that aren't too complex. Experienced colourists can also use the larger spaces for shading, blending and patterning.

26 unique designs
Difficulty level: Easy
Single-sided printing
8.5 x 11 inches (approx. 22 x 28cm)

You can view all of the images in this book below.

See it on Amazon: US | UK | International

A printable PDF version is available from Etsy.
Preview the Designs
Below you can see previews of all the images in Cute and Easy Kawaii Alphabet. Just click the thumbnails to enlarge.

Buy Cute and Easy Kawaii Alphabet on Amazon: US | UK | International
Free Sample Page
You can download the printable letter C colouring page from Cute and Easy Kawaii Alphabet below for free – click here to see it (right click to save to your computer). For personal use only. For all of my free pages, click here.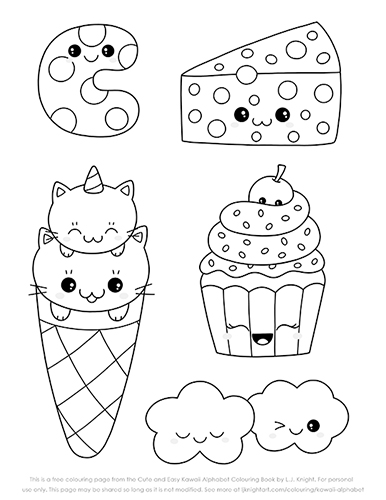 Design Details
Here's a list of what's on each page:
A – apple, armadillo, acorns, ant, avocado
B – bees, balloon, bear, banana, bauble, bird
C – cheese, cat ice cream cone, cupcake and cherry, clouds
D – dolphin, daisies, doughnut, dinosaur
E – Earth, elephant, Easter eggs, envelope
F – fox, fork, flames/fire, flower, frog, fish
G – giraffe, garlic, ghost, goat, glass
H – house, hedgehog, hat, hearts
I – igloo, ink bottle, ice cubes, ice cream
J – jug, jar, jewels, jellyfish
K – key, kite, kangaroo, kettle
L – ladybird/ladybug, lollipop, leaves, lamp, lion
M – moon, mouse, mushrooms, mug
N – narwhal, nib, notes, nuts
O – owl, onion, orange, oyster
P – planet, pig, pumpkin, pen, pencil, peas in a pod
Q – Queen, quill, quiver, question mark
R – rocket, rainbow and rain clouds, rabbit, ring, radish, rolling pin
S – sun, snake, strawberries, spoon, star, starfish, sock
T – tortoise/turtle, towel, tulips, tomato, tent
U – UFO, unicorn, umbrella, ukulele, urchins
V – vampire bat, vest, van, vase, volcano
W – witches hat, wand, walrus, watermelon, wheel
X – x-ray, xylophone, Xmas tree
Y – yacht, yoyo, Yin and Yang, yarn
Z – zebra, zigzag, zero, zip
Cute and Easy Kawaii Alphabet is book 16 in the LJK Colouring Books series, which has a growing range of colouring designs for all ages. See the other books here.
If you like this book, you might also enjoy Cute and Easy Kawaii, which has another 30 fun kawaii designs to colour. Click here to find out more!