On this page you'll find a free sample design from each of my full-size colouring books.
All links go to the full-sized JPG download. The paper size is 8.5 x 11 inches, but the images can also be printed on A4 paper. To download, right click the thumbnail or image name, and choose 'save link as'.
These pages are free for your personal use only. They cannot be sold, licensed, or used commercially in any other way. It's okay to share them, so long as the text underneath the image is not removed. Please credit 'L.J. Knight' as the artist, and include a link to this page – https://ljknightart.com/colouring/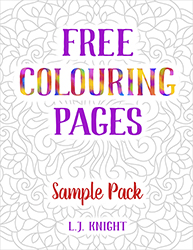 At the start of the pandemic in March 2020, I put together a free PDF with the white background pages above that were available at the time (up to Very Easy Flowers), plus an extra design from each book, making 30 free colouring pages in total.
Click here or on the image to download the PDF file (or right click and choose 'Save Link As').
See all of my colouring books here