Cute and Easy Kawaii is for anyone who loves adorable designs! This book has 30 original illustrations that are hand-drawn in Japanese kawaii style. Subjects include unicorns, narwhals, purrmaids, skull cones, cute food and drink, flowers, animals and more! The easy pages make it perfect for beginners, children and anybody who likes to colour designs that aren't too complex. Experienced colourists can also use the larger spaces for shading, blending and patterning.

30 unique designs
Difficulty level: Easy
Single-sided printing
8.5 x 11 inches (approx. 22 x 28cm)

You can view all of the images in this book below.

See it on Amazon: US | UK | International

A printable PDF version is available from Etsy.
Preview The Designs
Below you can see previews of all the images in Cute and Easy Kawaii. Just click the thumbnails to enlarge.

Buy Cute and Easy Kawaii on Amazon: US | UK | International
Free Sample Page
You can download the printable llama colouring page from Cute and Easy Kawaii in the photo below for free – click here to see it (right click to save to your computer). For personal use only. For all of my free pages, click here.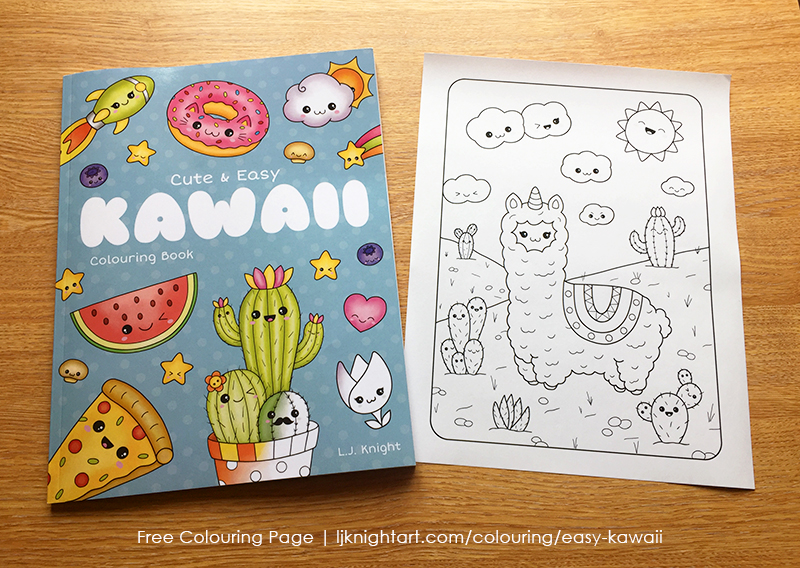 Design Details
Here's a list of what's on each page:
1 – Llamacorn with cacti, clouds and sun
2 – Underwater scene with octopus, jellyfish, fish and bird
3 – Cute food: burger, taco, fries and mushrooms
4 – Cacti in a pot
5 – Halloween pumpkin, ghost and candy corn
6 – Flying Pegasus unicorn with clouds, rainbow and hearts
7 – Cupcake with strawberries, blueberries and sprinkles
8 – Parent and baby snail with leaves
9 – Cute drinks: coffee cup and tall glass
10 – Hearts
11 – Skull ice cream cone with bones
12 – Fruit, including orange slice, watermelon, banana, strawberries, raspberry, blueberries, blackcurrants, apple and pear
13 – Adults and baby sloth in a tree
14 – Cat in a box, with paw prints
15 – Christmas tree with stars
16 – Doughnuts
17 – Owls in a tree, moon and stars
18 – Avocado pears, hearts and flowers
19 – Monster with balloons, clouds and flowers
20 – Flowers
21 – Purrmaids / cat mermaids underwater with fish
22 – Stationery, including pens, pencil, scissors, notepad, clipboard, drawing pins, ruler, eraser and pencil sharpener
23 – Basket of vegetables, including carrots, broccoli, sweetcorn, tomatoes, potatoes, pumpkin, onion and leafy greens
24 – Apple tree with clouds
25 – Space scene with alien in a flying saucer, rocket, planet, moon, comet and stars
26 – Butterflies and flowers
27 – Easter bunny with Easter eggs, flowers and rainbow
28 – Bees with beehive and flowers
29 – Weather and sky characters, with sun, rain clouds, thounder cloud, stars, moon, snowflakes and rainbow
30 – Prehistoric landscape with dinosaur, volcanoes, pterodactyl and palm tree
Cute and Easy Kawaii is book 14 in the LJK Colouring Books series, which has a growing range of colouring designs for all ages. See the other books here.
If you like this book, you might also enjoy its sequel, Cute and Easy Kawaii Alphabet, which has another 26 fun kawaii designs to colour. Click here to find out more!