Patterns are very relaxing to colour, and Geometric Patterns (Volume 3) is perfect for people of all ages who enjoy colouring repeating symmetrical pattern designs.

50 unique designs
Difficulty level: Medium
Single-sided printing
8.5 x 11 inches (approx. 22 x 28cm)

All of the pattern images in this book can be viewed below.

See it on Amazon: US | UK | International
Preview the Designs
Below you can see previews of all the images in Geometric Patterns (Volume 3). Just click the thumbnails to enlarge.
Buy Geometric Patterns (Volume 3) on Amazon: US | UK | International
Free Sample Page
You can download the page from Geometric Patterns (Vol. 3) below for free – click here to see it (right click to save to your computer). For personal use only. For all of my free pages, click here.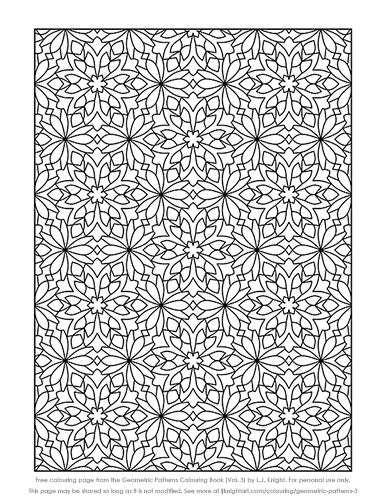 Geometric Patterns (Volume 3) is book 22 in the LJK Colouring Books series. This series features a growing range of colouring designs for all ages, including Geometric Patterns Volume 1 and Volume 2, which each have another 50 fun pattern designs. See all the other books here.