Very Easy Animal Faces Colouring Book for Toddlers and Young Kids is a perfect first animal colouring book for your child! This book has thirty cute cartoon animal portrait illustrations that are designed to be easy to colour, with thick lines and large spaces.

30 original hand drawn designs
Difficulty level: Very easy
Single-sided printing
8.5 x 11 inches (approx. 22 x 28cm)

You can view all of the images in this book below.

See it on Amazon: US | UK | International

A printable PDF version is coming soon.
Preview The Designs
Below you can see previews of all the images in Very Easy Animal Faces. Just click the thumbnails to enlarge.

Buy Very Easy Animal Faces on Amazon: US | UK | International
Free Sample Page
You can download the printable giraffe colouring page from Very Easy Animal Faces below for free – click here to see it (right click to save to your computer). For personal use only. For all of my free pages, click here.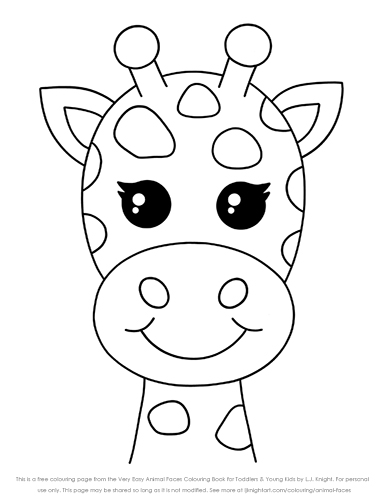 Design Details
This animals in this book are: cat, elephant, zebra, pig, Triceratops dinosaur, tiger, sheep, panda, frog, dog, snake, mouse, lion, koala bear, monkey, owl, hippopotamus, shark, rabbit, deer, chicken, rhinoceros, sloth, giraffe, squirrel, llama, badger, cow, penguin and fox.
Very Easy Animal Faces is book 21 in the LJK Colouring Books series, which has a growing range of colouring designs for all ages. See the other books here.