Here's another painting finished for Block 1 of the Evolve Artist course. This one was a bit trickier, with gradients in some tight spaces. Each exercise has been slightly more challenging than the last, but they don't ramp up too quickly, so the progression feels natural.
As with the previous exercises, I've made mistakes, although nothing too glaring this time. I keep running into the same issues, like paint ridges where colours meet, and patchy areas on the gradients. Unfortunately, knowing where I go wrong and not doing it are two different things! The skills I need to do everything correctly just aren't there yet, but I feel like I'm improving a bit. And that's the point of these paintings really – to practice the technqiues we learned at the start of the Block.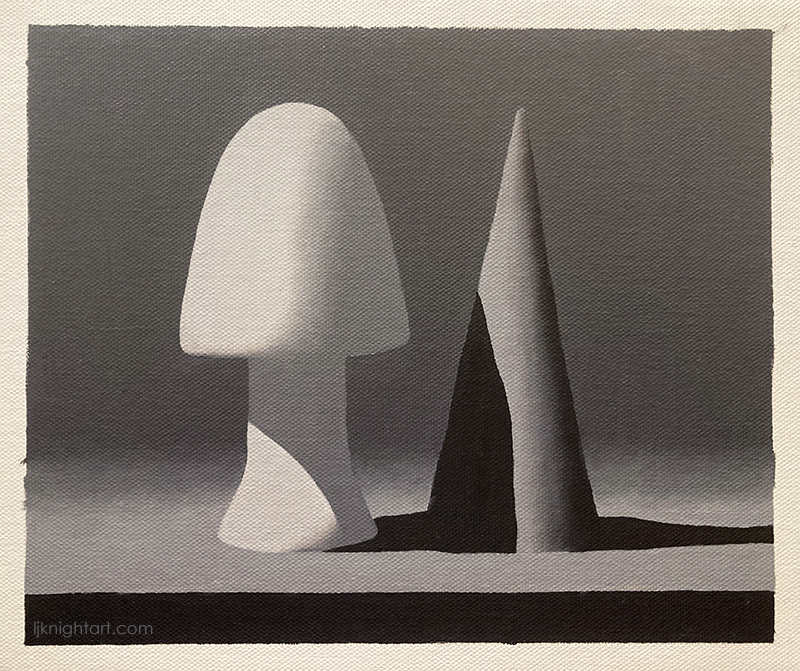 I split this one over two days again, which is how I think I'll work from now on. While I can complete one of these paintings in a day, it's very tiring. And art should be fun, not a slog!
(Edited to add: I just noticed that this one made the Wall, which is an area in the Evolve site where they highlight some of the best student work. I think it's the first time one of mine was picked, so I guess I did something right!)
The next painting will mark the halfway point for Block 1, which I'm happy about. I'm really enjoying the course so far, and just wish I wasn't so slow. But I'm trying not to compare my progress to anyone else's.
See all my Evolve Artist paintings here.