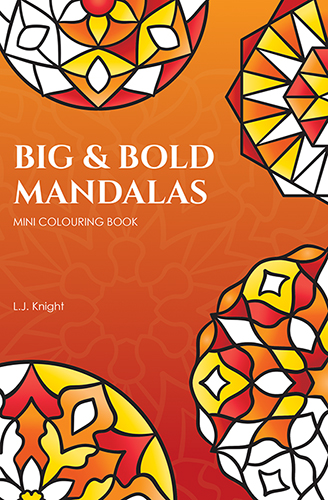 I've been so busy republishing my colouring books as updated second editions that I haven't been able to put out a new book for a while. But I'm almost done with the new editions now (just one more to go!), and took some time out to put together a travel size version of my Big & Bold Mandalas book.
Like my other mini books, this measures 5.25 x 8 inches, so is small enough to fit in a handbag. Mini colouring books are a great way to keep colouring when you're on holiday, or away from home. The designs in my new book are the same as in the full size version, but scaled down to fit the smaller page, so naturally the mandalas themselves have smaller spaces, so are not quite as easy as the large versions. But this is still a simple book, and the thick lines will help cover up any mistakes 🙂
I'm also going to be releasing mini versions of some of my other mandala books, as well as black background editions too. And of course, I'll also be working on completely new material, just as soon as I've finished the second edition of my final book, Easy Doodle Abstract. This one is taking longer than the others, because I'm redrawing the designs on my new iPad. More details to come soon!
In the meantime, you can see all the designs in Big & Bold Mandalas Mini here, or get the book on Amazon (UK link).