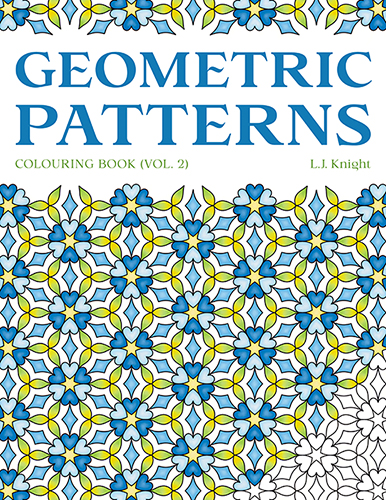 I have another new colouring book! This one is a more detailed version of my recently released easy patterns book, and is called Geometric Patterns (Volume 2) – see all the designs in the book here. I created my first pattern colouring book in 2015, so it's a while since I worked on designs like this, but I've enjoyed getting back into it again! I'm using different software to draw the patterns this time around, and it's lots of fun. In fact, I've already started rough drawings for volume three 🙂
This book has another fifty pattern designs with a variety of symmetry types. I always find the repetition makes patterns really relaxing to colour, and I've been enjoying colouring some of the page from this book and the easy version. These patterns are mostly moderately detailed, so it's a good book for adults, teens and older kids. I tried to keep the detail level about the same as in my first pattern book, so if you enjoyed that one, you'll probably like the second volume too.
You can buy Geometric Patterns (Volume 2) in paperback from Amazon. I will be doing a printable PDF as well, but it may be a while.
You can also print a the sample page below at home to try for free – click here to save to your device.