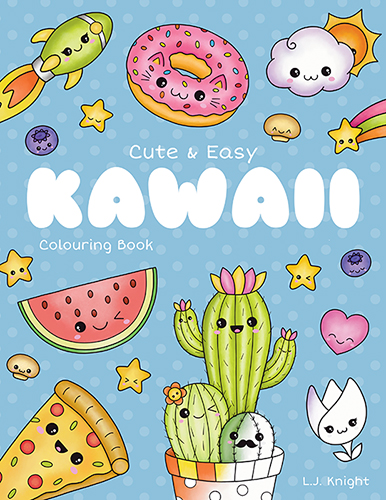 My newest colouring book, Cute & Easy Kawaii, is now available for sale!
As the name suggests, the designs in this book are both cute and easy, so it's great for beginners, kids and also for anybody who enjoys designs that aren't too complex. If you're a more experienced colourist, you might also like to use the larger spaces for shading, blending and patterning.
The book has 30 designs that I drew in Japanese kawaii style (kawaii means 'cute' in Japanese), featuring adorable animals, flowers, seasonal designs, cute food and other characters. You'll find a unicorn, purrmaids, sloths, birds, butterflies and more – take a look at all the designs here! You can also download a free llamacorn page to print at home here.
You can buy Cute & Easy Kawaii in paperback on Amazon (UK link, or search your local Amazon site). If you prefer to print on your own paper at home, I'll be doing a digital version too, which should be ready in a few days.
It's been a while since I published a new colouring book, and this one has taken me longer than expected! But now it's finished, and I'm excited to have it out. Happy colouring! 🙂