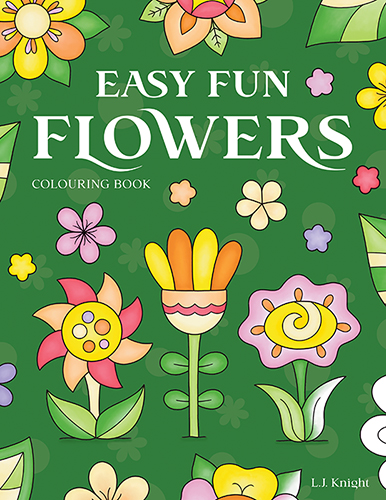 I've just published my latest colouring book, Easy Fun Flowers! The name sums it up really – these are relatively simple floral illustrations, in a fun doodle style (not realistic). There are 30 designs to colour, and I think the book will appeal to adults to like easier designs, as well as kids. As with all my 'easy' books, the larger spaces can also be used by more advanced colourists for shading, blending etc.
Click here to see previews of all the designs!
You can buy the book in paperback on Amazon. I'm also working on the digital version, which should be ready in the next few days.
You can download a printable sample page from Easy Fun Flowers for free here.
This was a fun book to make – I find it relaxing to draw doodly things 🙂 If you prefer real-looking flowers, I have plans for some titles with realistic drawings too, including florals. I'll post more about that nearer the time. For now, happy colouring!