I just finished my next painting exercise for the Evolve course, which is this still life pear, cylinder and pot. This is the second execise with reflections, and it definitely felt a bit harder than the last one.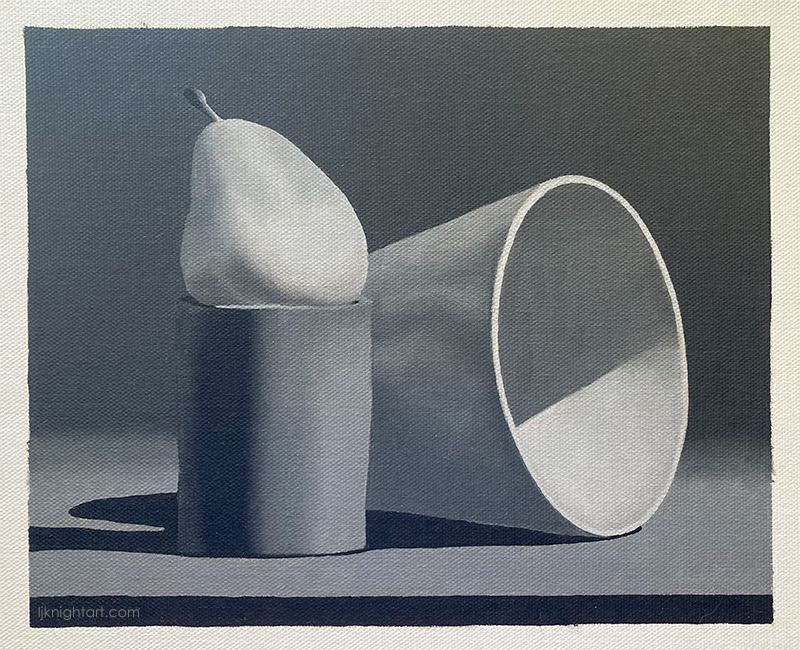 I made some pretty major mistakes on the pear and pot, and had to repaint some areas, which was annoying. Fixing the issues took well over an hour and I already feel like I take too long on these paintings (something I'm trying not to be so bothered about!). The pear didn't come out too badly in the end, but I'm not happy with the outside of the pot. That said, I don't think I could have improved it much at this stage, so I'm just happy to have got it finished!
I really like how much practice is built into the course with these exercises. I saw a post from another student who was saying they were bored of greyscale and wanting to move onto colour (which isn't introduced until Block 3). That made me realise how the stage I'm at feels just right for now. I want more practice with edges and reflections, so I'm glad there are still several paintings left to go in Block 1. I love colour but right now it would just feel like too much to juggle.
See all my Evolve Artist paintings here.