This is my latest painting exercise for Evolve Artist, Block 3, number 11. This one was painted from a photograph. Unfortunately I had trouble getting a decent photo of my painting, as the light here is so gloomy right now, and my photography skills aren't great at the best of times.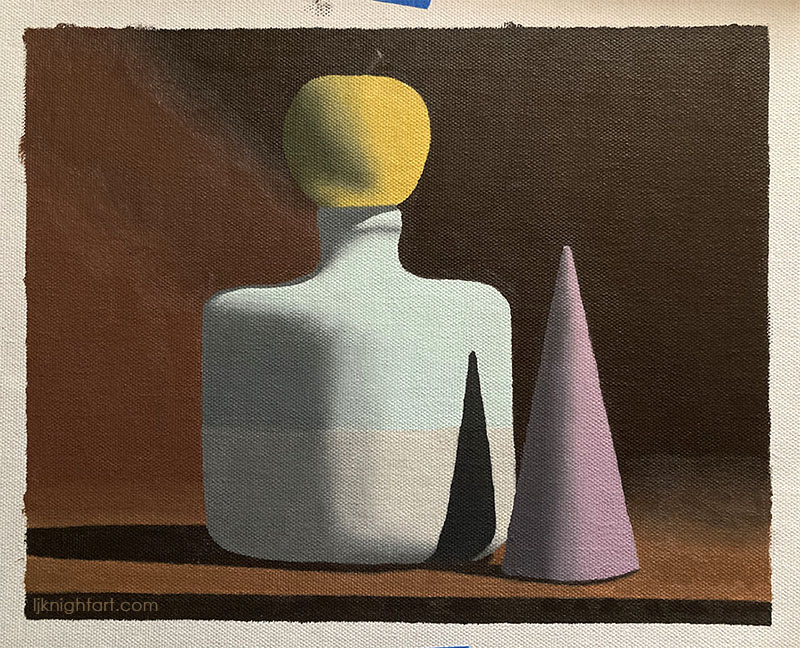 This exercise was pretty straightforawrd, although a bit more challenging than others in this block so far, due to the two-tone colours on the bottle. I'm not too happy with the gradient on the bottle, and feel like it could be a lot smoother. But I got to the point where trying to improve it just messed things up, so I decided to leave it. Plus I'd been painting all morning and was ready to stop! I also mixed far too much paint. At the rate I'm going, I'll need to buy more paint to finish Block 4, which shouldn't be necessary. So I hope I get better at colour mixing, and also at estimating how much I'll need for each object.
Still, I'm pleased to have finished this painting relatively quickly, with all the time I've lost lately. The exercises painted from photos are always faster, since drawing from life takes much longer. I'm a bit bored by the 'flatness' of these paintings, but after the next exercise we'll be adding in highlights and reflections again, which should make them look a bit more interesting.
See all my Evolve artist paintings.