I didn't have time last week to work on my Evolve exercises, and I missed it. But this week I got back to it and have just finished exercise 11 of Block 1. For this one there were some new instruction videos, which was fun. There haven't been any new videos for the last few paintings, since the idea was to practice the skills we'd already learned on more subjects. Exercise 11 introduces reflections and highlights, as well as more flexible gradients, and together these are making quite a difference in the look of the painting – it definitely pops more!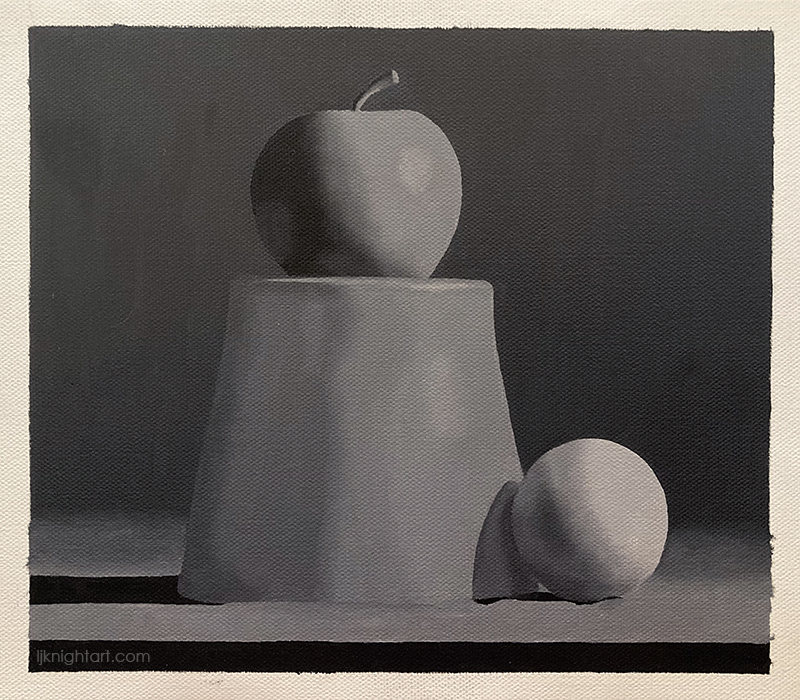 I found this one the most enjoyable to work on too, since we're now at the stage of making more decisions about what to add to the painting. In the early exercises everything was spelled out, then we began identifying values, then edge types, and now gradient shape/size and reflections. Of course making more choices means there are more ways to go wrong! But I'm okay with how this one came out, despite some streakiness and other issues. I like how the exercises are getting more challenging, but only in small steps, so it never feels overwhelming.
I also like that this one has an apple, as do a few of the upcoming paintings, Along with animals, fruit and veg are some of my favourite subjects. I know these exercises are just for practice and it doesn't really matter what the subject is, but I find it more enjoyable to paint something that interest me, rather than a random tin can or whatever. Anyway, I'm happy with how this is all going, and am looking forward to the next painting.
See all my Evolve Artist paintings here.