It has been a few months, but I now have a new colouring book! This is another pattern book – the third volume in my Geometric Patterns series. I've been on a bit of a pattern kick, as this is actually the fourth new pattern book I've put out this year. I just find them really fun and relaxing both to draw and to colour. This one took a bit longer than expected to get ready (I feel like I say that every new book!), and I went through four versions of the cover, but I'm happy with it now 😀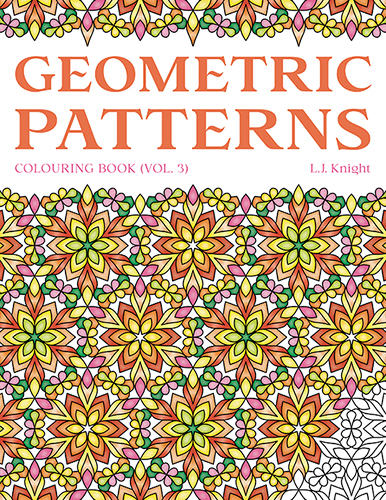 As with my previous pattern titles, I'm making an easy version too, which I'll publish before Christmas. After that, I'll be focusing on other subjects for a while – I'm all patterned out 😛
Geometric Patterns (Volume 3) has another fifty pattern illustrations. As usual, there's a good mix of symmetry types to keep things interesting, and most of the designs are moderately detailed. This makes it a great choice for adults and older kids who love to colour abstract pattern designs that aren't too easy or too hard. You can preview all the designs on this page.
Want even more patterns? Check out Volume 1 and Volume 2!
Geometric Patterns (Volume 3) is for sale in paperback from Amazon.com (UK, international).
You can also print the sample page below at home to try for free – click here to save to your device.