I just completed Block 3, exercise 7 of Evolve Artist. This is the first painting with colour gradients and shadows, and was painted from a photograph.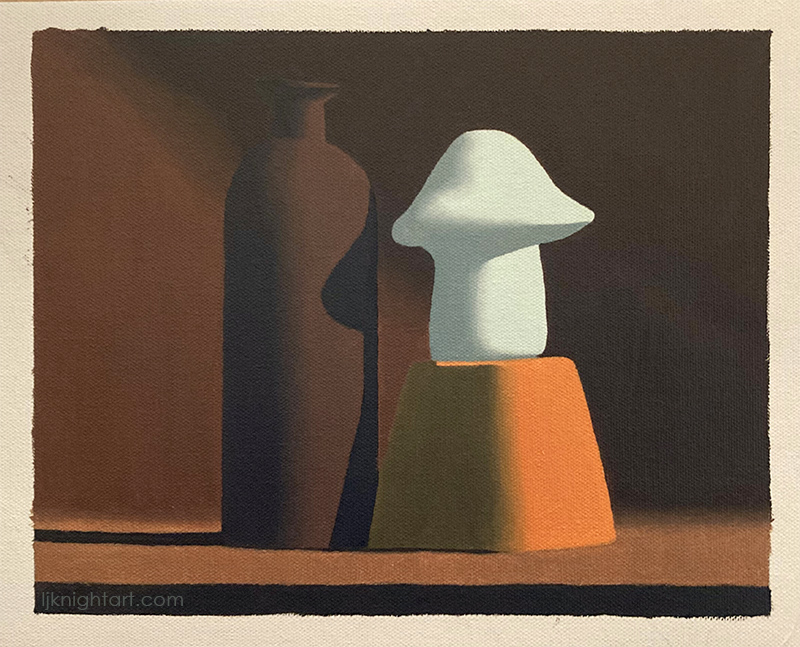 I haven't painted any gradients since finishing Block 2 several weeks ago, so I was a bit worried I might have lost the knack! But they came out the same as usual – which is, with room for improvement in the softness, but not too bad. There are no reflections or highlights at this stage, so the painting still looks flat. I think there are another five or so like this before we get back to adding in the extras that make the subjects pop.
As well as gradients, this one has colour shadows, unlike the grey shadows in the previous exercises. At this point they're simply a darker version of the light colour, so the hues aren't completely accurate compared to the reference photo. Some of my shadows aren't as dark as I'd like, as I was afraid of losing the colour and making them grey. So I erred on the side of caution and kept them a bit lighter. I must say, I'm looking forward to Block 4 where we can make completely accurate paintings without these simplifications in technique. But I know they're a necessary step along the way (and I wouldn't actually want to skip them to progress faster) so I'm trying not to be too impatient 😀
See all my Evolve artist paintings.