Here's another Evolve Artist exercise finished! This is #19 from Block 3, and was painted from a reference photo.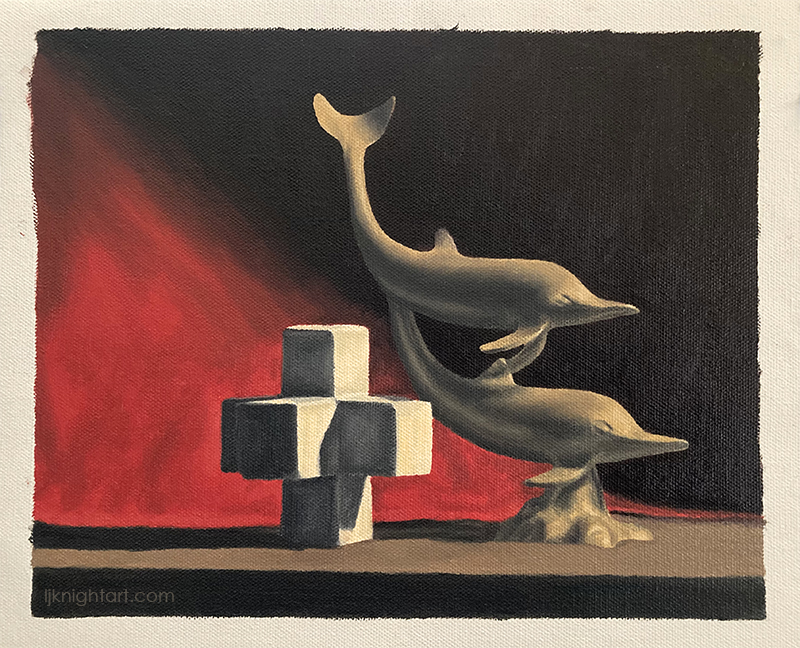 It's over a month since I finished the last exercise, which is longer than planned. I took a few days off last month for my birthday, and then got sick with a heavy cold which put me out of action for a couple of weeks. I started the painting with the cubes somewhere in the middle of that, but about 15 minutes in I was tired and finding it hard to focus. I had to keep going until they were done, since I'd have had to start over otherwise, but it really felt like a slog. It brought home just how much mental energy these exercises take for me! So I left the rest of the painting until I was feeling better, and kept myself occupied with easier stuff instead, like doodling in my sketchbooks 🙂
I admit I felt like procrastinating a bit once I got back to it, since this is one of those iconic Evolve paintings where I've seen fantastic work from other people, and I wanted to do a good job too. The dolphins felt a bit more complex than the things we've painted before, but once I got into it, they were easy enough. I ended up taking all day to finish it, partly because the background has more going on than usual (a pattern, which I didn't try to replicate in detail), and also because after filling in the background, the shadow values on the objects looked too light. It's not the first time this has happened, and it's annoying because I always test the colours next to each other on some scrap paper first, and they looked fine there! So I had to try to fix the dolphins and cubes after they were supposed to be finished, which wasn't ideal. I wouldn't like to do this kind of painting all day every day – too tiring!
I'm quite pleased with the end result, although it doesn't 'pop' as much as the reference photo. But the paintings aren't supposed to replicate the photos at this point, since we're still limited in terms of the range of colours and values we can use.
I'm very happy to have it done, and to nearly be through with Block 3 😀
See all my Evolve artist paintings.