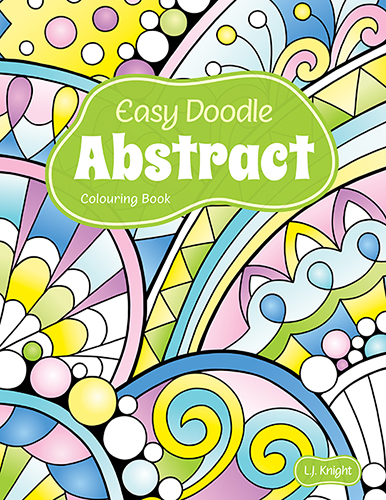 The second edition of my Easy Doodle Abstract Colouring Book is now available in paperback on Amazon (UK link), and as a digital download on Etsy.
I originally published this book in September 2017, under my previous author name Tigerlynx. In the second edition, the author name has changed and the back matter has been updated. The designs are still the same, but I've redrawn them all on my new iPad Pro (which is why it took me so long to get this second edition out!). In the old version of the book, I drew the pages with pen on paper, then converted them to vector format for smooth printing. That worked well, but I prefer the look of the lines in the new versions. And I can draw faster on my iPad, which means I can put out new books more quickly 🙂
Easy Doodle Abstract has 30 original designs to colour, and some – but not all – have zen doodle-style patterns. These pages have relatively strong lines and large spaces, so they're perfect for beginners, kids and anyone who likes colouring simple designs. You can see all the illustrations here.
This is the last of my second editions, so all the books I previously published under my old name now have new versions. This has taken quite a lot longer than I expected, so it's a relief to be done with them! I'm very happy with the new editions though, as it's given me a chance to tidy everything up, and to make sure all my older titles have a consistent look.
So what's next? I'm working on some completely new colouring books, with themes including a more detailed abstract book, flowers, animals and a few other things. I'll also be putting out more mini and black background versions of some of my existing titles, as well as working on wall art paintings.