This is my fourth painting (and 14th exercise) for Block 2 of Evolve Artist. I messed up the drawing for this one and had to redo the cube a few times. I really need to learn perspective drawing properly! I've done a course before, but it doesn't stick because I don't practice it and haven't been making the kind of art that needs accurate perspective. Anyway, I got it in the end. This is the first Block 2 painting with highlights and reflections, so it's not as flat looking as my earlier ones. The 'egg' is a polystyrene shape, not a real egg.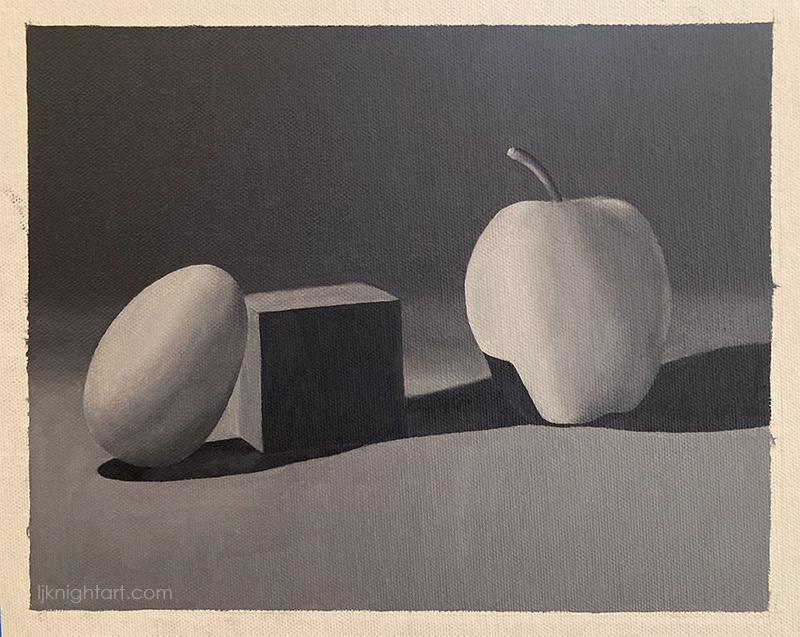 I took almost a week off between doing the drawing for this exercise, and starting to paint it. I've been working steadily on Evolve since the beginning of the year, and needed a break. I do really value what I'm learning, and enjoy doing the work most of the time, but sometimes I feel a bit bored or frustrated with these exercises. That's not Evolve's fault; their approach of keeping things simple in the early stages is perfect. I feel this way with any learning program where someone else is saying 'do this', and I'd rather be doing something else. I find animal and fantasy paintings and colourful abstracts more interesting than still lifes. I also prefer a looser style to this tight realism, and like working in watercolour more than oil (although I do like oil too). So sometimes I want to be finished, so I can devote all the time I'm spending on this to the work I want to make. But I need these skills to create the art I prefer, so I'll try to be patient 🙂
Some people alternate Evolve exercises with their own realistic paintings, but Kevin (Murphy, the founder) advises against this until we're into Block 4. He says (I'm paraphrasing here) that it takes until that point to really internalise what Evolve is teaching and mixing in other work can reinforce old bad habits. That makes sense to me. So the only other art I'm doing is drawings for my colouring books and some abstract and doodly stuff in my sketch books. I don't feel like that will interfere with Evolve, since it's not at all realistic. But I'm postponing the paintings I want to make until I'm finished with the Evolve foundation blocks, which at the rate I'm going is likely to take the rest of this year at least.
It feels a bit daunting sometimes – especially because I feel like I'm progressing more slowly than they suggest most people do, due to my slow painting/drawing speed – but I'm trying to just focus on one exercise at a time and not look too far ahead. And taking a break now and then helps, even though it pushes the finish line a bit further ahead. Better that than burning out!
See all my Evolve Artist paintings here.