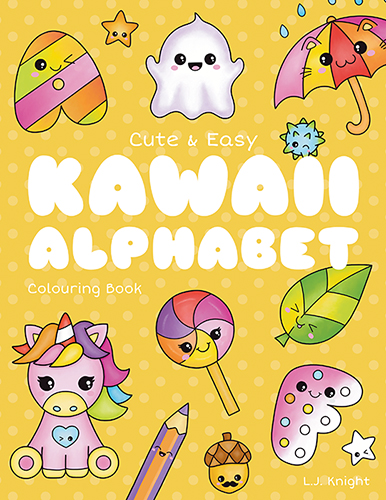 I have a new kawaii book out! My first kawaii colouring book got a good response, so if you liked that one, check out its sequel, Cute and Easy Kawaii Alphabet.
I've wanted to do an alphabet book for a while now. This one has 26 pages, and each page has a letter of the alphabet, along with about 4-6 individual illustrations of things beginning with that letter. So 'A' has an avocado, ant, acorns, apple etc. These bite size characters mean you can colour a bit here and there without the pressure to finish a full page design.
Like its predecessor, the designs in Cute and Easy Kawaii Alphabet are quite simple, so it's a good choice for beginners and kids. More experienced colourists might enjoy experimenting with more complex shading and blending in the larger spaces.
You can see all the designs, along with a list of everything under each letter (I hope it's obvious what the drawings are, but have listed them just in case!) on the book's page here. You can buy the book in paperback on Amazon, and a PDF version will be available in my Etsy store soon.
There's also a free page (the letter C, with a cupcake, cat ice cream cone and more) to download and print at home here.
Happy colouring 😀