At the start of this year I made a bunch of geometric patterns to add to my stores. I've been posting them over the last few months, but have now reached the last one, which is this flower pattern in blue, purple and white. This is my favourite, so I saved it until the end 🙂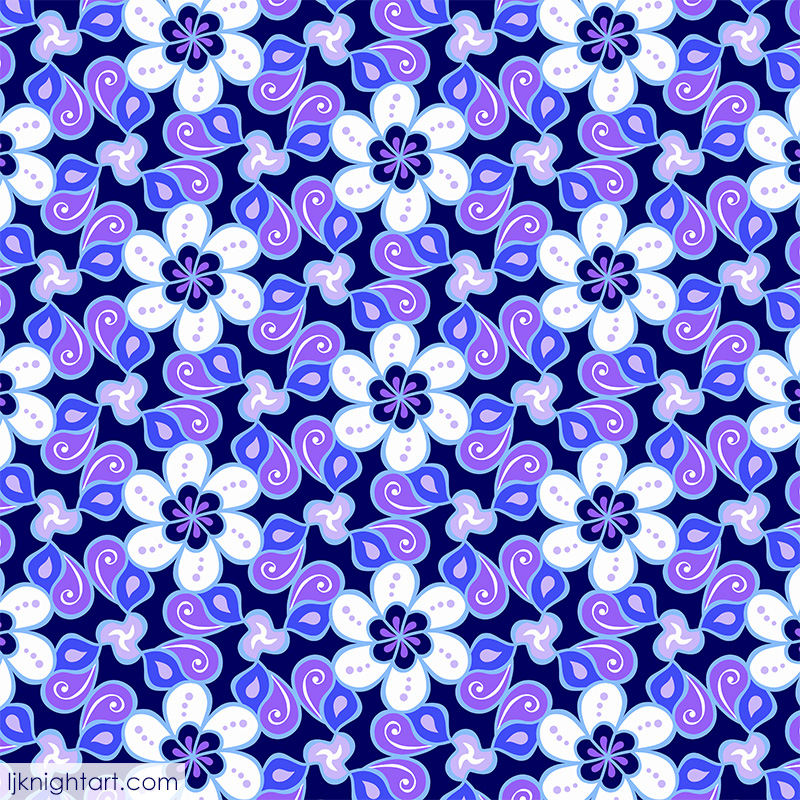 When I was making these, I was in a phase of thinking I wanted to focus more on surface pattern design, along with my colouring books and other art. It's something I enjoy a lot, and my plan was to make a large set of geometric patterns, then move on to other themes such as florals, animals etc. But I didn't get beyond the geometrics, because making a lot of patterns in quick succession made me realise that it was taking too much energy from the other art that interests me more. I do love pattern making and will keep doing it, but more as a fun thing.
The internet opens so many opportunities to artists, and that's great. But for those of us who like working in different areas it can be challenging to not to end up spread too thin. So going forward I'm sticking with my original focus on wall art and colouring books. And I'll post a pattern when I feel like it 🙂
Anyway, I've added this cute floral pattern to customisable fabric in my store on Zazzle (where you can use the Customize feature to change the size or direction of the print). It's available in my shops on for sale on phone cases, pillow and many other products in my shops on Society6 and Pixels.
There is no watermark on the printed products.